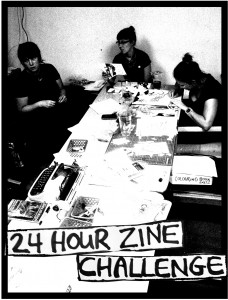 Hey you! Remember that awesome zine you used to do? Well it's time for another
issue already!
And you! Never done a zine before? No more excuses!
July is International Zine Month and to celebrate the folks at the Toronto Zine Library are inviting you to take part in our 2nd annual 24 Hour Zine Challenge. We'll provide the tools: Sharpies, typewriters, glue, and scissors. There'll also be PWYC vegan treats. Come join us in the Tranzac Tiki room and make your mark on zine world.
Time

Wednesday, July 20 at 5:00pm – July 21 at 1:30am

 
Location

292 Brunswick Ave (South of Bloor)

Toronto, ON
Facebook RSVP: http://www.facebook.com/#!/event.php?eid=213947111978030
About the 24 Hour Zine Thing: (http://24hourzines.com/): "The 24 Hour Zine Challenge asks zinesters to create a 24-page zine from conception to final product in 24 hoursstraight. Zines should be of suitable size and technical difficulty so that this truly is a challenge for individual zinesters."